How do we choose to change our lives? What part of us makes that choice that leads us closer to the center of our own heart? Who do we become when we become the best version of ourselves?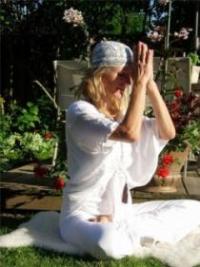 Immerse Yourself within Your Self: The story of my journey through the Kundalini Yoga Teacher Training Program by Victoria Lynes / Atmabir Kaur
(This blog first appeared on www.3HO.org)
As I glided past the closed door on my way from a Hot Yoga class to change out of my hot sweat-drenched clothes, I was stopped short by the strange yet somehow familiar sounds that were emanating from inside. Others pushed past me in their rush to the cold showers and back out into their lives. I was frozen to the spot. The pull to open the door was so strong that the phrase "I'm possessed!" came to mind, a line from some old 80's horror flick. The sounds were so beautiful, so charged with powerful, uplifting energy. And I had the strongest sensation that I had heard them before. "What kind of yoga class is this?" I wondered, continuing to listen intently. After a few moments, the sounds suddenly stopped and there was silence. Coming back into my reality, I moved on into the busy change room to well.... change. But there was something more than my clothes that were changed on that day.....