About Kathryn McCusker
Kathryn McCusker, KMYOGA Founder & Director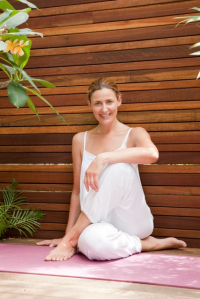 After eleven years of living in London and traveling the world as a professional singer and teacher of Kundalini Yoga, Kathryn returned to Sydney with an inspired vision to create a kundalini, meditation and yoga space accessible to everyone. Whilst her own journey has its foundation in the teachings of Kundalini Yoga, she feels it is important to offer a variety of tools that support people in their search for personal growth and spiritual development.
Kathryn believes that we all have the potential to live a happy, healthy and prosperous life and the practices offered at KMYOGA space supported this view. After running the beautiful KMYOGA space in Bondi Junction for three years (from 11.11.11 - 11.11.14), Kathryn continues to support her students with retreats and workshops around the world, online classes and through her books and CDs.
After practicing various forms of yoga for several years, it was Kundalini Yoga that had the most profound effect on Kathryn's life and she feels passionate about sharing the teachings with as many people as possible.
Kathryn discovered Kundalini at a time when she was searching for more peace, balance and meaning to her life, which took her to Mexico, Tibet and India. She has studied Kundalini Yoga with various internationally renowned teachers, such as Guru Dharam Singh at the School of Kundalini Yoga in London and Karta Singh at the Amrit Nam Sarovar School in France.
She has taught at leading yoga studios throughout London, including Triyoga and Alchemy and on workshops and retreats worldwide. The spiritual name given to Kathryn is Sarb Sewak Kaur, which means to serve all that is. She therefore feels destined to create KMYOGA, a space that serves to nurture the health and potential of everyone.
For more information about Kathryn McCusker please visit her website www.kathrynmccuskerkundalini.com.